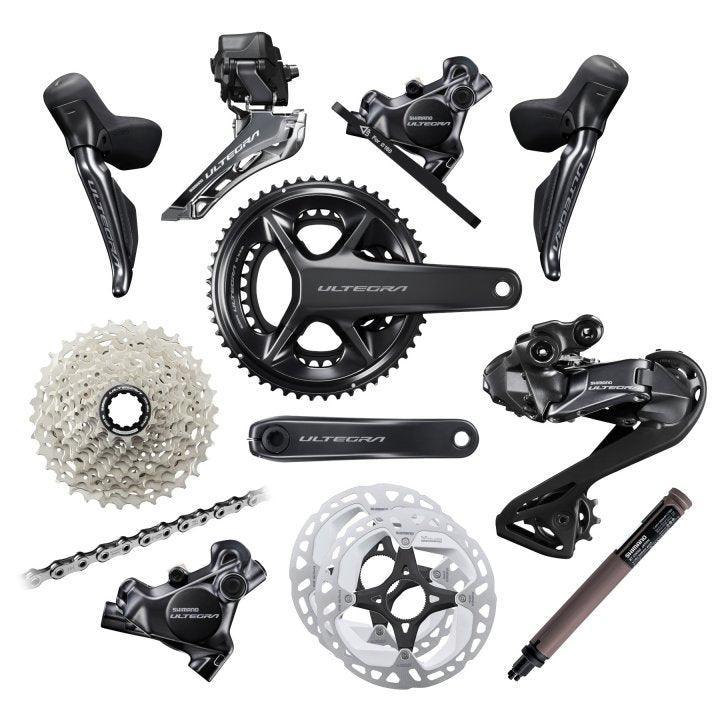 Shimano Ultegra R8170 Di2 Hydraulic Disc Electronic Group
ULTIMATE PERFORMANCE

The Science of Speed, Shimano's design philosophy for its latest road groups, is comprised of five elements: a new Di2 platform, a refined interface, the addition of Hyperglide+, a category-redefining brake system, and a collection of new wheels. Here's a quick rundown on how each of them contributes to faster, more efficient road riding. The launch of the SHIMANO R9200 series DURA-ACE and R8100 series ULTEGRA is not simply an effort to make one-time bike setup easier or to unveil new technology for the sake of creating buzz. Instead, it represents a holistic approach that is 100 percent performance-focused.

WIRELESS WHERE IT MATTERS

Shimano's new shifting systems use wireless technology on R7170, R8170, and R9270 versions where it makes sense for both day-to-day life and ultimate performance. Freeing the shift levers from the rear of the bike cleans up the cockpit and simplifies the build process. Meanwhile, connecting the derailleurs to an internal main battery ensures absolute reliability by maintaining stable voltage while also improving Shimano's already lightning-fast shift speed that has made Di2 a staple of the WorldTour pro peloton.
REFINED INTERFACE
New Di2 dual control levers feature dramatic, all-new ergonomics and act as the wireless command center on R7170, R8170, and R9270 Type Levers. Both DURA-ACE and Ultegra levers have a longer, slightly curved hood body for a more comfortable and secure grip. Shift buttons are easier to reach and differentiate with extended switches and an increased offset between them. With better access and faster shifting, you'll always find yourself in the right gear.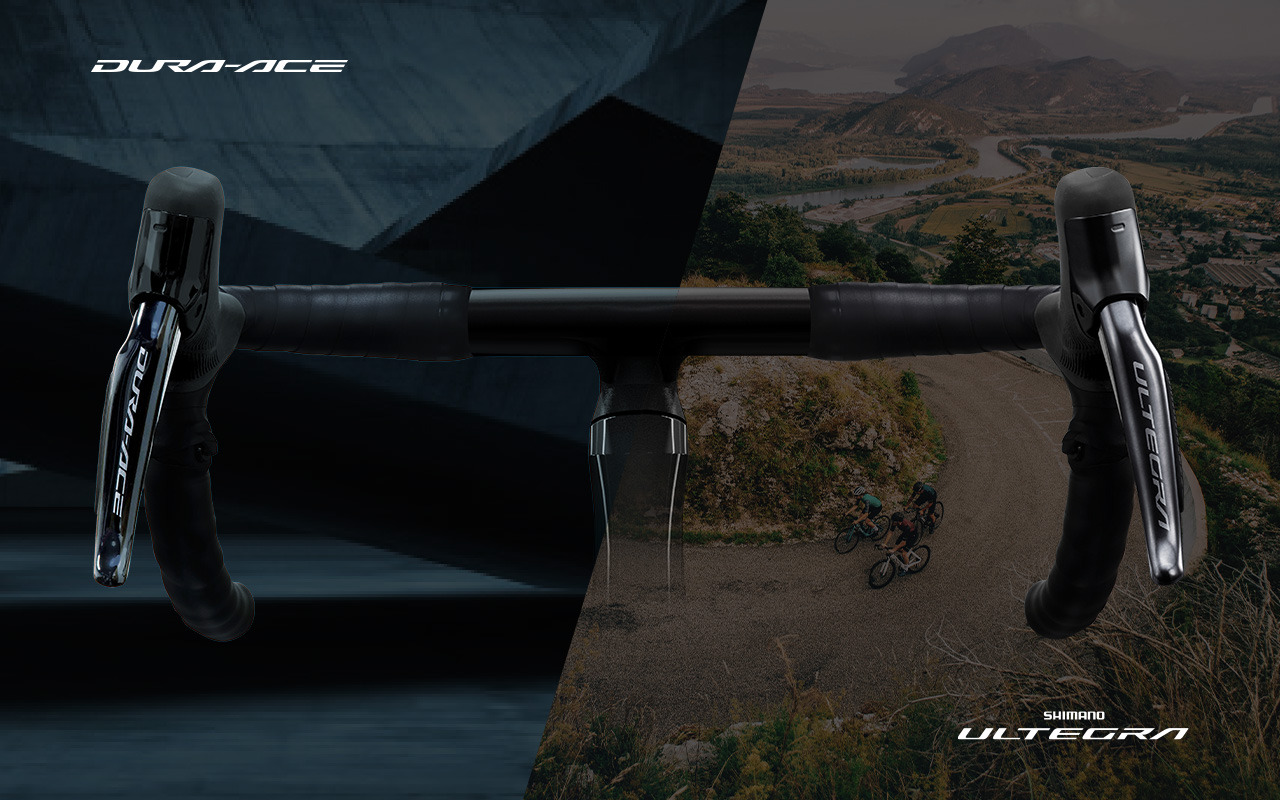 HYPERGLIDE+
The backbone of these two new groupsets is the game-changing HYPERGLIDE+ shifting technology. First introduced on Shimano mountain bike groups, this unique chain-and-cassette interface smoothly guides the chain up and down the cassette for fast and precise shifting in both directions — even under extreme pedaling load.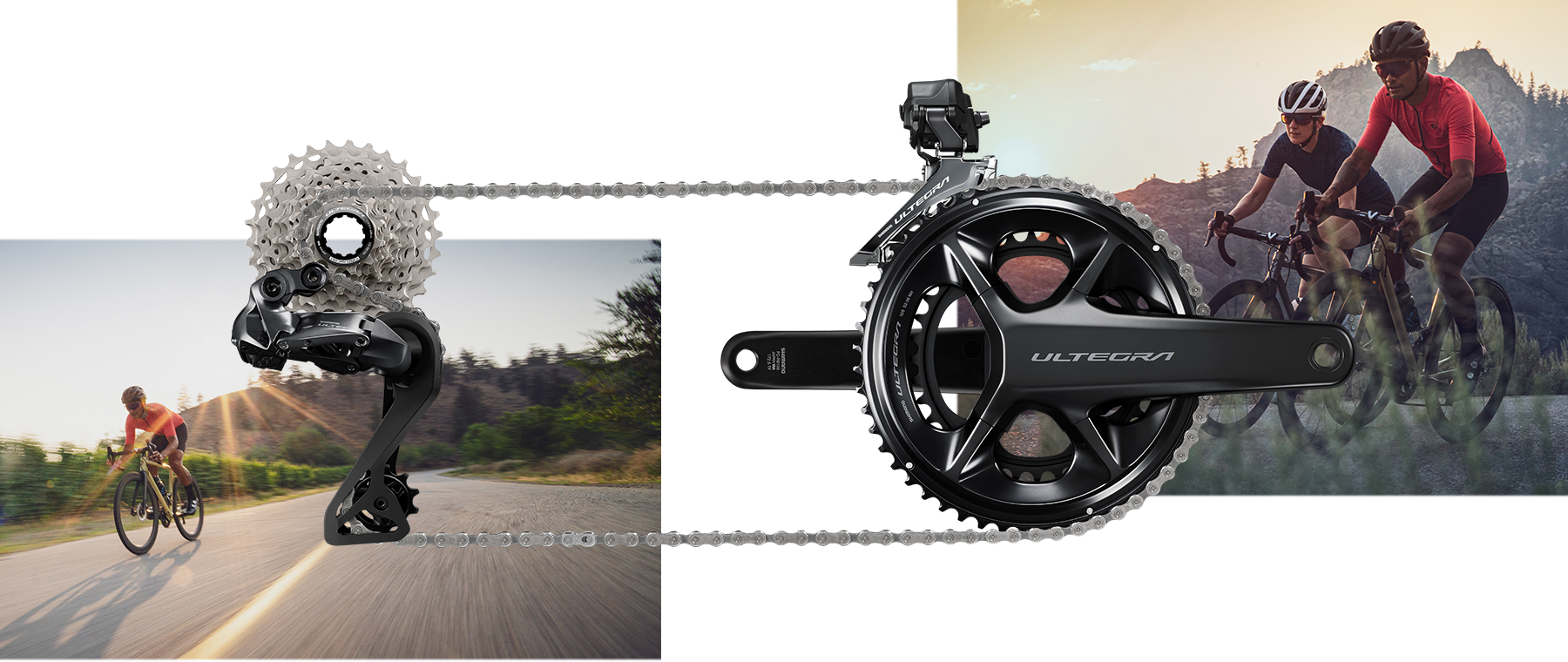 BETTER BRAKING
Both DURA-ACE and ULTEGRA also welcome new braking systems, which are quieter, easier to maintain, and deliver superior control. Improvements start with the addition of Shimano's proven SERVOWAVE technology. First developed for mountain bikes, SERVOWAVE provides a quick initial bite, then slows down lever force generation for better modulation.